Pollutants, dust, dander, pollen, smoke and even pathogens such as mold, viruses ad bacteria all can be suspended in the air you breathe, even when you don't see them. An iWave air purifier installs in your air conditioning system to help clean the air in your living space. When air passes over the iWave, ions produced by the device reduce pathogens and other airborne particles, creating a healthy environment without producing any harmful byproducts.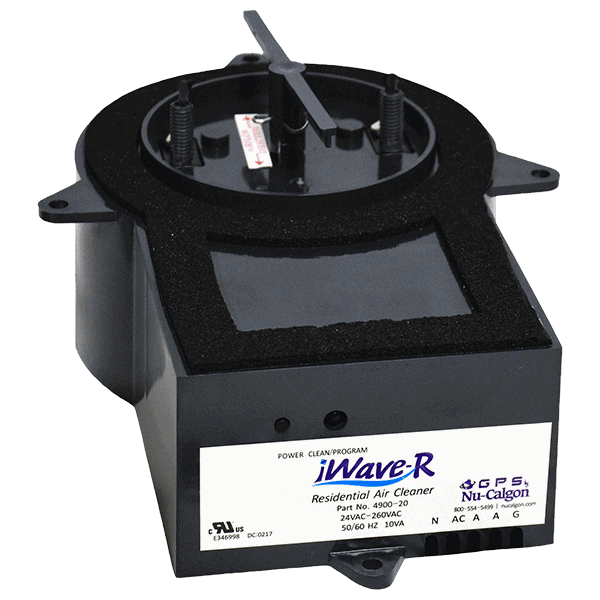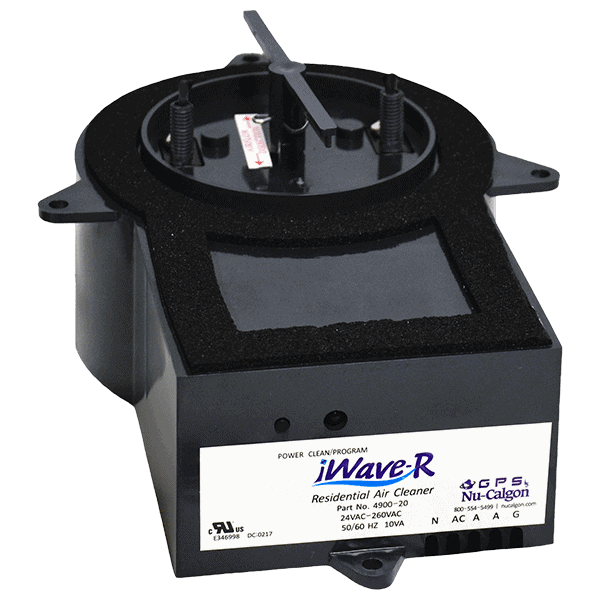 iWave-R
iWave-R treats the air in any brand of residential duct air conditioning systems up to 6 tons (2400 CFM) in size with no maintenance and no replacement parts. Designed for universal mounting, the iWave-R typically installs inside or outside of duct, or it attaches magnetically near the indoor fan in the air handler. iWave-R always works at peak performance, producing over 160 million ions/cc per polarity (320 million total ions/cc), more than any other ionizer product on the market. Its patented self-cleaning design includes a programmable cleaning cycle that can clean the emitter brushes every 1, 3, 5, or 10 days. The iWave-R is factory set to clean every third day, which is adequate for a typical installation.
Patented self-cleaning design ensures ongoing peak performance
Needle point bi-polar ionization actively treats air in the living space
For duct systems up to 6 tons (2400 CFM)
Universal voltage input – 24VAC to 240VAC!
Universal mounting with magnets
Flexible design with no replacement parts
Kills mold, bacteria, and viruses
Reduces allergens, odors, smoke, static electricity and other airborne particles
Keeps coil cleaner
Programmable cleaning cycle
Alarm contact option for secondary notification
UL and cUL approved
Three-year warranty*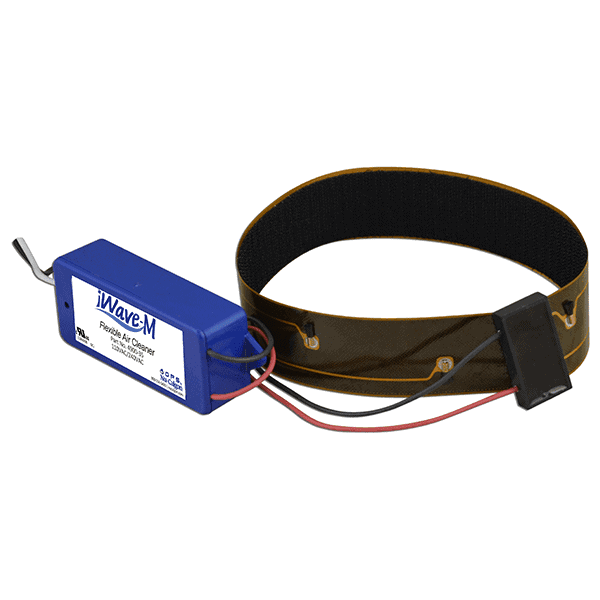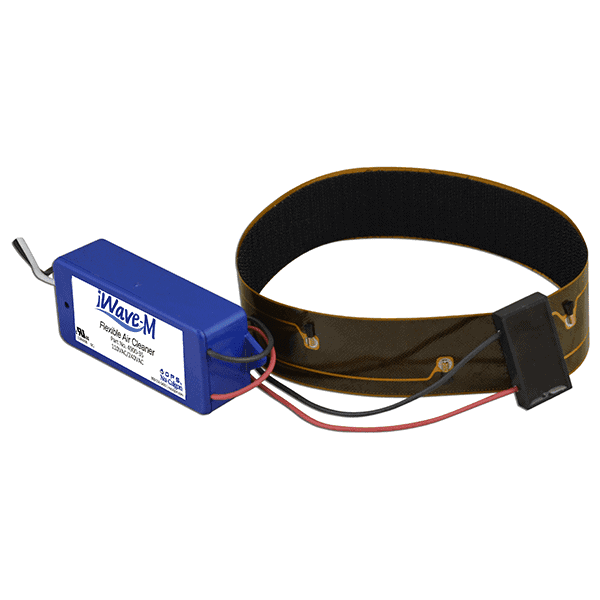 iWave-M

iWave-M's revolutionary circuit bar with special integrated ion-generating needles fits any HVAC cooling coil up to 36" wide. The circuit bar is chemical resistant and highly durable for long service life. Plus, it can be folded to length in the field to any size and uses hook/loop fasteners for the flexible bar and power pack for easy installation. It is perfect for ductless HVAC systems – specifically mini-splits, commercial VRF coils, PTAC systems – plus some residential and commercial duct systems, packaged systems, transport cooling coils, or even in ice machines. The iWave-M is the most versatile and novel product on the market to address air quality for any HVAC system, in particular, to solve mold issues common in hard-to-clean ductless systems.
Special ion needles routed in a flexible bar circuit
Compact design applicable for HVAC cooling coils up to 36" wide
Can flex easily in the field to accommodate virtually any application - ideal for ductless systems
Chemical and temperature resistant; durable for long service life
No replacement parts
Flexible voltage input – 110VAC to 240VAC
Kills mold, bacteria and viruses
Reduces allergens, odors, smoke, static electricity and airborne particles
Keeps coil cleaner
UL and cUL approved
Three-year warranty*


Safeguard HVAC units, appliances and commercial equipment from damaging power surge events with our hardwired surge protective devices. Simple to install, these solutions offer lasting protection in a variety of residential, commercial and industrial applications.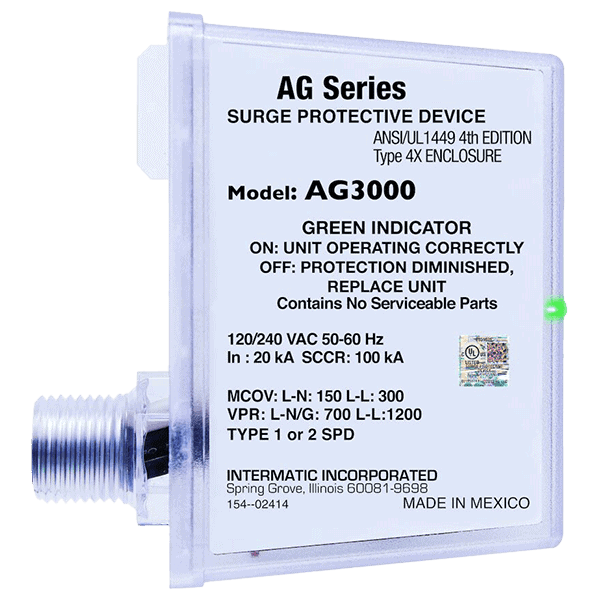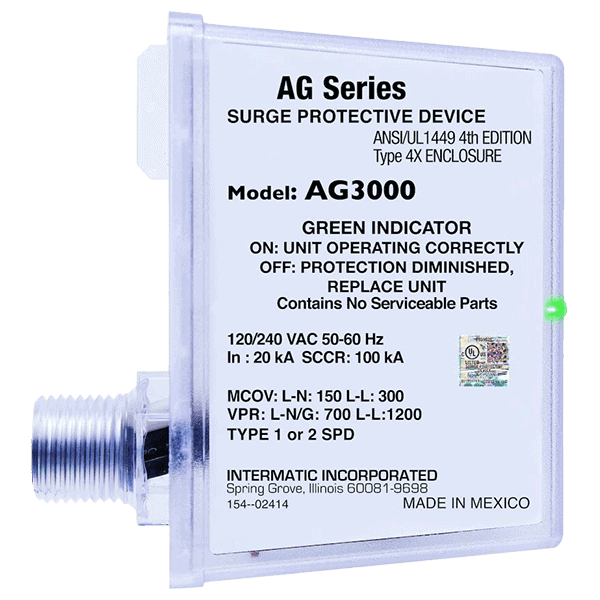 Intermatic® AG3000 Surge Protective Device

3-MODE, 120/240 VAC 1PH, TYPE 1 OR TYPE 2, OUTDOOR, CONNECTED EQUIPMENT WARRANTY 3YR $7,500
Power surges are the silent killer for home appliances and HVAC equipment. Most homeowners protect their electronics, but leave more valued equipment unprotected. Surges can wipe out equipment and leave you searching for answers. Search no more. The easy-to-install AG3000 Surge Protective Device (SPD) is the perfect add-on for HVAC equipment. A green LED indicator provides the status of protection. Trusted, state-of-the-art TPMOV® (Thermally Protected Metal Oxide Varistor) technology eliminates the potentially hazardous failure modes that are commonly associated with standard MOV technology. UL Listed to ANSI/UL 1449, 4th Edition.
Features

Three modes of protection: L-G, L-L, L-N
TPMOV® surge protection technology
Green LED indicator provides status of protection
Type 4X watertight and UV resistant plastic enclosure
3-year product warranty
$7,500 connected equipment warranty for 3 years
UL Listed to ANSI/UL 1449 4th edition


Packard has been a dominant force in the HVACR industry since 1959. As a master distributor, we bring wholesalers and OEMs innovative, high quality products that include top industry names and our own exclusive private-label lines. We have regional offices and independent manufacturers' representatives from coast to coast, but we have chosen Kennesaw, Georgia for both our corporate office and our main distribution center. Customers in the Midwest are served through fully stocked distribution centers in Plainfield, Indiana, as well as Tempe, Arizona. In 2021, Packard became a subsidiary of DiversiTech, headquartered in Duluth, Georgia.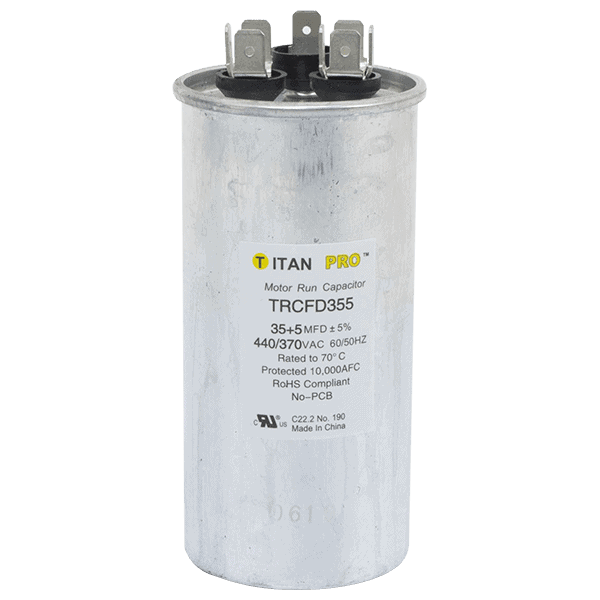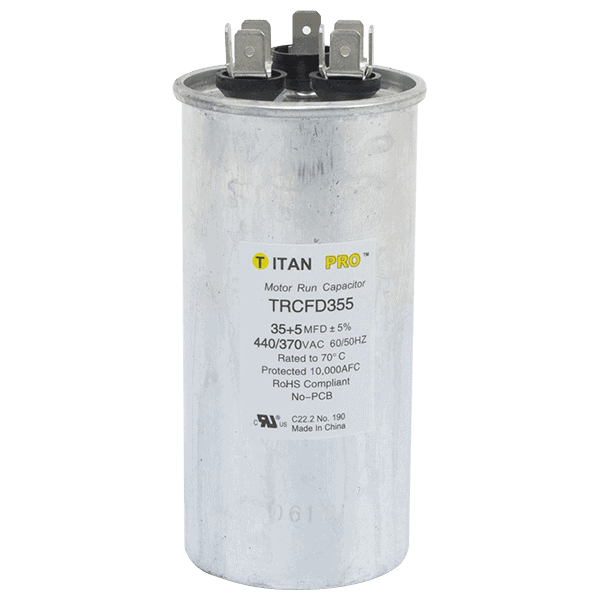 Packard TITAN PRO RUN CAPACITOR 35+5 MFD 440/370 VOLT ROUND

Not all capacitors are built the same. Take it to the PRO level. At 60,000 hours of operational life, Titan PRO™ Professional Grade Motor Run Capacitors get the job done by outperforming standard motor run capacitors of similar value by 83%!
RELIABLE: 60,000 hours operational life
FLEXIBLE: Titan PRO™ 440/370 volt design reduces inventory, Titan PRO™ 370 volt offers best in class value
COMPLIANT: Built to the toughest international standards for AC motor run capacitors including EIA-456-A and IEC 60252-1:2001
TESTED: 100% electrical testing
REINFORCED: Heavy-edged metalized polypropylene film is used for the dielectric, Proprietary bio-degradable oil, Second generation anti-explosion safety switch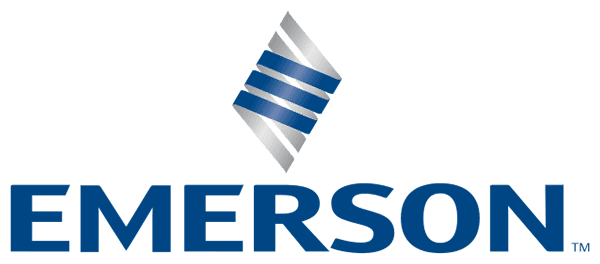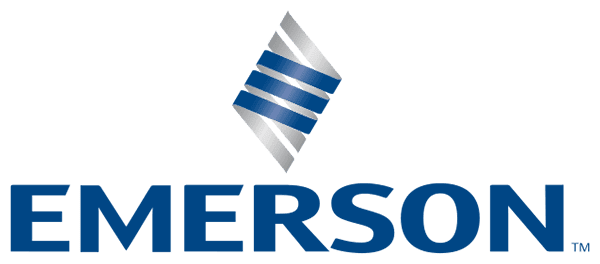 From energy-efficient Copeland Scroll™ compressors to highly precise Sensi™ smart thermostats to cutting-edge Emerson electronics and heating technology, our residential and commercial solutions set the industry standard allowing you to create a level of indoor comfort your customers won't find anywhere else.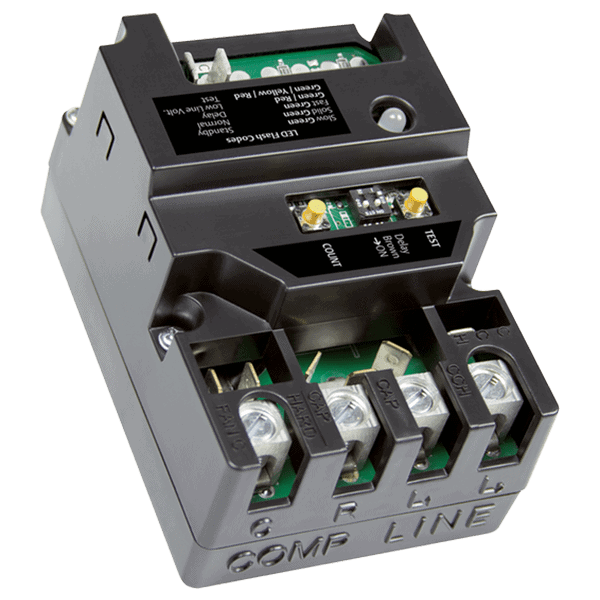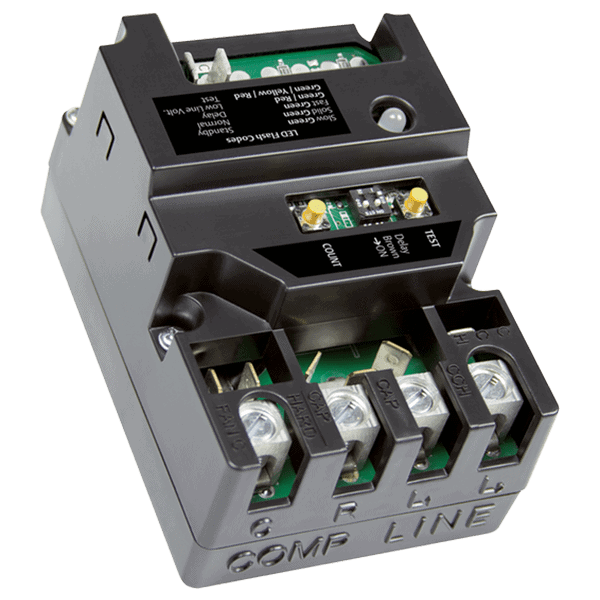 Emerson 49P11-843 SureSwitch™

Universal Electronic Upgrade for Mechanical Compressor Contactors. 5x Contactor Life, Sealed to Keep Out Ants and Debris.
Features

Works with 120 Volt Input
5x traditional contactor life
Totally sealed switch keeps out ants, pests and debris
Microprocessor control inhibits arcing that cause welding and pitting
Line voltage brownout protection and short cycle timer provide compressor protection
Zero chatter latching relay
Heavy-duty lug connectors
5-year limited warranty
Four-hole mounting matches mechanical contactors
Tri-color LED with compressor test and cycle count by pushbutton